9 OF 9 - Freeware
Version 1.1
Freeware
Win 3.1 and higher
Pentium 100 and higher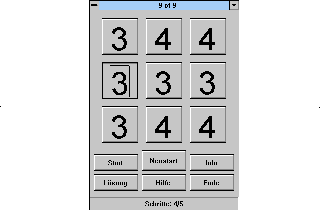 "9of9" (selfextracting
exe-file)!
"9of9" (ZIP-archive)!
9 OF 9 - Freeware
Short time fun matching digits
Push buttons to manipulate the numbers written on them.
If you click on a certain button, the numbers of all buttons in the same row and column will rise by one!
Try to beat all 9 difficulty levels!
More details here!